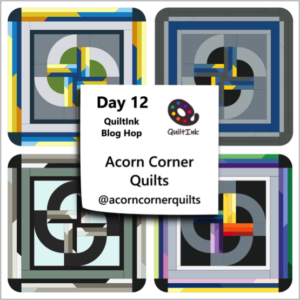 Welcome to my blog. This is my first post, but an exciting one. I am currently in a Blog Hop with 13 great quilt designers to show you how to use the new web app, Quiltink. My friend, and business partner at Seacorner Pattern Workshop, has come up with a brilliant app to let people colour quilt patterns in a very fun way. Catalina's newly launched Starlike quilt, was the catalyst for designing the app, and now it benefits so many designers. I had the fortune to pattern test Starlike, and it is amazing to be able to change the colours so quickly. On the app, you can choose from so many different quilt patterns to colour, from a selection of wonderful designers. My upcoming quilt pattern, Talking In Circles, is on QuiltInk as well. It is featured in Quilting Cowboy's Look Book for his new fabric line, Leaf. I am now working on finishing up writing the pattern, and it is fun to be able to see what all the colour options are in the app. The Blog Hop ends tomorrow, but please go back and visit the other designer's pages to see their wonderful designs.
February 3: Claire Campion from Made Just Sew
February 4: Jen Frost from Faith and Fabric
February 5: Tammy Silvers from Tamarinis
February 6: Augusto Garcia from Capital A Quilts
February 7: Marlene Oddie from KISSed Quilts
February 8: Julia Wachs from Julia Wachs Designs
February 9: Carolyn Murfitt from Free Bird Quilting
February 10: Kiley Ferons from Kiley's Quilt Room
February 11: Wendy Congdon from Truly Materialistic
February 12: Josianne from Indigoshima
February 13: Sarah Harris from Acorm Corner Quilts
February 14: Alex Hoffmann from Hoffmama Company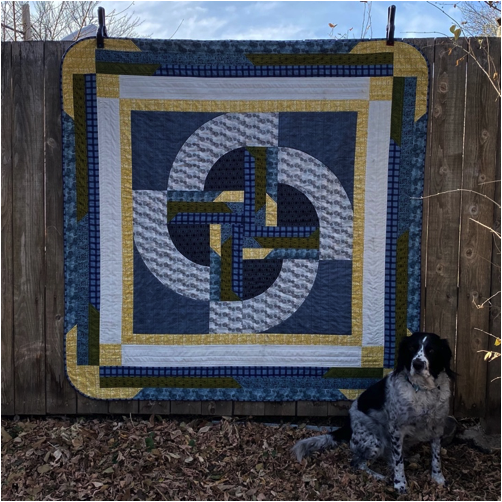 Tomorrow is the last day of the giveaway over on Instagram, so hop over to @quilt_ink and follow all of the directions for a chance to win a huge prize of 21 patterns from 12 designers. Each designer has been showing examples of their patterns that they have filled in on QuiltInk. Check all the participants and the patterns that you can win on the blog post.
All of these amazing patterns are in pdf format for quick downloading:
@amarar_creacions: 1 Starlike Quilt Pattern, 1 International Modern Alphabet Pattern and 1 Marine Series Origami Animals Bundle (6 FPP patterns)
@madejustsew: 1 Retro Metro Pattern
@faithandfabric: 2 patterns of the winner's choice
@tamarinis: 1 of the featured patterns on QuiltInk
@marlene.kissedquilts: 1 pattern of the winner's choice
@juliawachs.designs: 1 Green Lake Pattern
@freebirdquiltingdesigns: one each of the 3 patterns on QuiltInk
@kileysquiltroom: 1 Evolve or Starweave Pattern
@trulymaterialistic: 1 pattern for each design posted on QuiltInk
@indigo_shima: 1 Gratitude Quilt Pattern
@acorncornerquilts: 1 Talking In Circles pattern (upon release)
@hoffmamacompany: 1 Slow Dance Quilt PDF Pattern, 1 Cabin Fade Quilt PDF Pattern, & 1 Weighted Quilt PDF Pattern
You must be 18 years old to participate. Instagram is not responsible nor sponsoring this giveaway.
Try QuiltInk yourself. You can use it for free and post your colourings on the Wall for others to see.
My 10 year old made a short video about Talking in Circles and Quiltink. Click to View.
The instagram account of QuiltInk is the best way to keep track of any news about the app, to see new featured patterns, and be notified about the latest options.
Follow QuiltInk on Instagram
Thank you so much for reading my blog post and I will be adding more content soon. I will also let everyone know when my Talking In Circles pattern is released. I am excited to see what you colour on QuiltInk!
Cheers,
Sarah